Rosemary, The Hidden

Kennedy Daughter
A

New York Times Best Seller!
Editor's Choice!

The New York Times Book Review calls it "a biography that chronicles her life with fresh details . . . By making Rosemary the central character, [Larson] has produced a valuable account of a mental health tragedy, and an influential family's belated efforts to make amends." Read the full review by Meryl Gordon
NYTBR
Listen to Larson's podcast interview with
Editor-in-Chief Pamela Paul in the New York Times Book Review -
---
"In-depth coverage of one Kennedy daughter who never gained the spotlight like her siblings....A well-researched, entertaining, and illuminating biography that should take pride of place over another recent

Rosemary

bio..." Read
" 'Rosemary: The Hidden Daughter,' by Kate Clifford Larson, will break your heart...."
O

ne

of the newspaper's Holiday Gift Book Picks of 2015
---
A "Scintillating New Read....What drove Kennedy-family patriarch Joseph Kennedy to lobotomize his mentally unstable eldest daughter, Rosemary, in 1941?...With compelling

psychological,

social and political insight, Kate Clifford Larson explores that mystery and others in

Rosemary."

More Magazine, October 2015
"The forgotten Kennedy is forgotten no longer. Rosemary is a rare thing, a book about the Kennedys that has something new to say." — Laurence Leamer, author of The Kennedy Women
"Kate Clifford Larson delivers an engrossing portrait of Rose and Joe Kennedy's tragic misunderstanding of their oldest daughter's capabilities, and of how her fate changed the Kennedy family forever. And yet it is Rosemary herself who shines from the pages of this profoundly revealing family story." — Marya Hornbacher, author of Madness: A Bipolar Life
"In her engaging and compassionate Rosemary, Kate Larson illuminates the poignant story of a resolute girl falling behind in a glamorous and competitive family. Rosemary's own story comes alive against the broader and often shocking background of twentieth-century attitudes toward the intellectually disabled, and sheds fascinating light on how the characters of Rose Kennedy, Joe Kennedy, and Rosemary's famous siblings were indelibly shaped by her determined yet tragic life." — Will Swift, author of The Kennedys Amidst the Gathering Storm
"...VERDICT This expertly researched work offers a candid examination of a once-forgotten member of one of America's most famous families. It will appeal to Kennedy devotees and readers interested in society's evolving understanding of the intellectually and physically disabled." Library Journal, 10/1/2015
"Larson … tracks the tragic story of the Kennedy sister hidden from public life for decades, the efforts her parents made to mask her disabilities, and what happened after her father, Joseph Sr, authorised an experimental lobotomy when she was 23. Rosemary is a heartbreaking book that makes clear the pain and passion behind the Kennedy family's efforts on behalf of the disabled." The BBC News "Ten books to read in October."
"Larson's well-researched and fascinating history includes Kennedy anecdotes as well as major developments in American life (e.g., Spanish influenza, the Great Depression, the beginning of the divide between the haves and the have-nots) in a depiction of one family's decisions regarding a special daughter, whose ill-advised lobotomy rendered her nearly broken, physically and mentally. Heartbreaking and illuminating, this will serve not only Kennedy fans but also those curious about the history of disabilities in the U.S." Booklist, October 15, 2015.
"A haunting, heartbreaking portrait of Rosemary Kennedy… Kate Clifford Larson's account of Rosemary's life… uses new sources, including diaries, letters and interviews, and makes for fascinating but heartbreaking reading… Larson also skillfully weaves a Kennedy family history into Rosemary, detailing Joe and Rose's courtship, Joe's political ambitions for his sons and giving glimpses into the life stories of all nine children… Even as Rosemary ends on a redemptive note for the Kennedys, [what-ifs] will haunt the reader long after the last page is turned." Keith Herrel, BookPage, October 2015.
"Stunned. Absolutely stunned. That was me, as I read this sit-still book. Yes, I was aware that Rosemary lived until relatively recently, tucked away in small-town Wisconsin, but the rest? I had no idea…. author Kate Clifford Larson also lays out plenty of history, both of the family as a whole, and of the world. She reaches back to the earliest Kennedy years and, as she pulls us forward, she puts into context each phase of Rosemary's life, plunging us into the way things were early in the last century. Then, believe it or not, in Larson's hands, this tragic tale culminates in an oddly happy ending…I couldn't get enough of this astounding book and, especially if you like a splash of historical biography in your scandal, you'll love it, too. "Rosemary: The Hidden Kennedy Daughter" is a book I can't speak enough about." Terri Schlichenmeyer The Bookworm Sez, in newspapers everywhere starting October 4, 2015.
"...Kate Clifford Larson … pulls Rosemary from the shadows [and] she succeeds in providing a well-rounded portrait of a woman who, until now, has never been viewed in full…Rosemary remains front and center in Larson's straightforward, chronological narrative, a testament to the author's desire to flesh out her subject's largely untold story. Kennedy compleatists will relish Larson's fleshed-out portrait of Rosemary, and readers interested in the changing attitudes toward the mentally disabled will find plenty to both inform and enrage." Eric Liebetrau, The Boston Globe, October 12, 2015.
"The Saddest Story Ever Told...Kate Clifford Larson's heartbreaking biography of Rosemary Kennedy." Sylvia Jukes Morris, Wall Street Journal, October 2, 2015.
"Larson's style is so vivid and powerful that we want to read it through spread fingers like a jury looking at autopsy photos. I was wiped out when I finished the book. Here is a writer who rejects today's penny-ante responses of empathy and compassion and compels us instead to receive humanity's sacrament of pity." – Florence King, National Review, November 2, 2015.
A "Briefly Noted" selection in The New Yorker Magazine, November 16, 2015!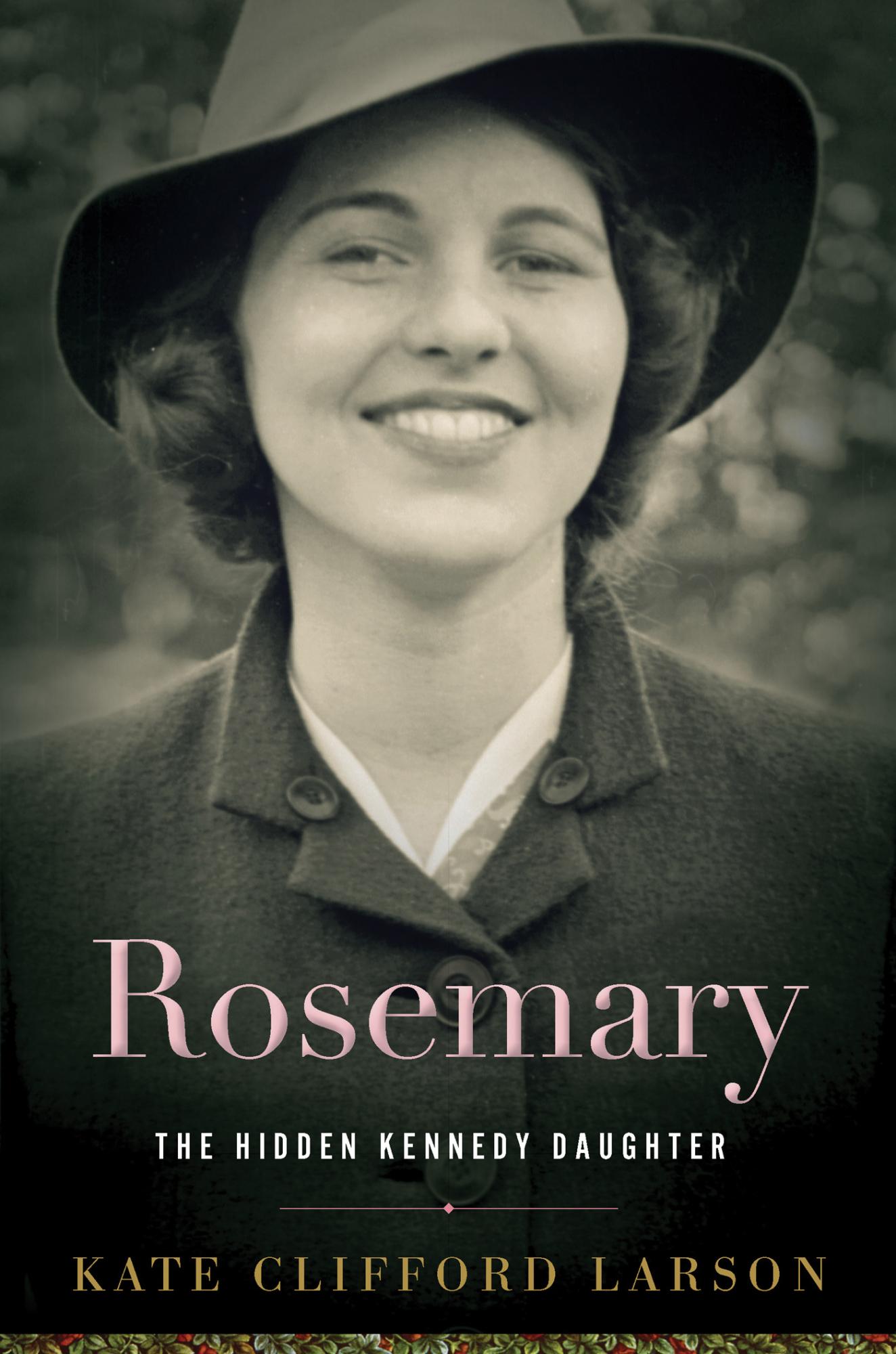 For more Booksellers coming - follow their links at Houghton Mifflin Harcourt :

Kobo Books
IndieBound
Hudson Booksellers
Books-a-Million
Powell's
Target
iTunes
Google